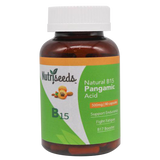 Nutriseeds - The Big 3
$150.00
The Richardson protocol emphasizes the importance of adding these 3 products to your daily regiment.
CERTIFIED NO PESTICIDE OR HERBICIDES
Our seeds are certified pesticide and herbicide-free and packaged in our certified organic facility in Central California. We lab test our seeds to check the levels of natural amygdalin to ensure our customers receive the best product we could possibly provide.
SUPERIOR QUALITY
Our guaranteed fresh apricot seeds are harvested from the best farms in California, renowned around the world for having the best climate and growing season to produce the best possible product. Apricot seeds grown outside of the US can expose you to poor quality, that's not acceptable to us.
HEART HEALTH
For those of us who are always wondering what types of nutrition can help combat the effects of aging and keep us healthy, apricot seeds have a loaded nutrition profile.
YOUR IMMUNE SYSTEM
Staying healthy by optimizing your nutrition intake is one the easiest and most effective things we can do to keep our immune system functioning as it should.
The Big 3 is designed to ensure you make the most of your B17 intake. Nutriseeds Natural Enzymes and Natural B15 provide the perfect synergy for Vitamin B17! No wonder Dr. John Richardson touted the usage of these 3 products in his protocol. 
The Big 3 includes a 500mg bottle of Natural Amygdalin, Natural B15 and a bottle of Natural Enzymes.